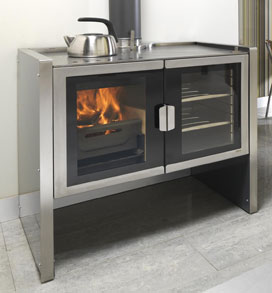 Razen Cook Stove
The FB Razen Cook Stove is a sleek piece of conpemporary design that will fit within any kitchen environment.
Please note the stove shown above is for illustration purposes only, dimensions and colours may vary. We reserve the right to change, alter or amend without further notice.
Hotplate:
Gradient temperature with rapid response hotspot.
Oven:
Circulated flue jacket for even oven heating and rapid heating up.
Controls:
Combustion air inlet and 'airwash'. Flue damper. Oven/hotplate heat ratio selector.
Output:
10kW
Dimensions:
W: 897mm - D: 597mm - H: 897mm
Weight:
200kg
Fuel:
Wood (max. log length = 490mm)
Flue:
152mm (6")
Colours
We offer a wide range of colour variations of this stove.